The Lyndon Baines Johnson Museum of San Marcos will host a special edition of its annual Fall Lecture on Oct.24 with a debate on voting rights by the LBJ Debate Society of Texas State University.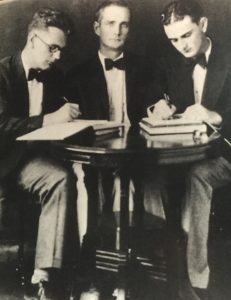 Young Lyndon Johnson (right) with his Debate Coach Howard Greene (center), and debate teammate Elmer Graham (left) at Southwest Texas State Teachers College.

The public is invited to attend "Democracy in the Balance" on Wednesday, Oct. 24, 2018, at 6:30 p.m. at the LBJ Museum, 131 N. Guadalupe Street. A reception will be held at 6:30 p.m. with refreshments by Mochas and Javas and Steger's Chiffonade. The debate will start at 7 p.m. and end at 8 p.m.

Moderated by Wayne Kraemer, director of the award-winning LBJ Debate Society at Texas State, two pairs of student debaters will tackle different views of Texas voter ID laws and court rulings that loosened the Voting Rights Act passed in 1965 under President Johnson.

Following the debate, the museum will show a short film of President Johnson signing the Voting Rights Act.

Supporting the debate as sponsors are the Departments of Communication Studies, Political Science, and the Honors College at Texas State, Democracy for Texas, Centro Cultural Hispano de San Marcos, the Calaboose African American History Museum, Mochas & Javas, Steger's Chiffonade, photographer Christopher Paul Cardoza, the College Democrats, and the Hays County Democratic Party.

For more information, contact James Martin, Director, or Taylor Briley, Assistant Director, at the LBJ Museum, 512-353-3300.

Founded in 1903 as the Chautauqua Literary Society, the LBJ Debate Society is one of the oldest student organizations on the Texas State campus and competes regionally, nationally, and internationally in a variety of debate formats.

The team is a perennial champion in the Texas Intercollegiate Forensics Association's championship tournaments. In the spring of 2018, the society won the Pi Kappa Delta Division One National Championship.

President Johnson was a star debater when he attended Southwest Texas Teachers College – now Texas State University – from 1927-1930. The Lyndon Baines Johnson Museum of San Marcos is the only Johnson site in Texas dedicated to his university student years, including the time he spent teaching in Cotulla, Texas.

The museum is open to the public Thursday – Saturday from 10 a.m. to 5 p.m. Group tours may be arranged by calling the LBJ Museum at (512) 353-3300. Museum facilities, including the second-floor auditorium and a conference room, may be rented by civic, educational and cultural organizations for special events.