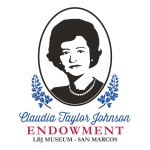 The LBJ Museum of San Marcos has announced the creation of the "Claudia Taylor Johnson Endowment" in honor of Lady Bird Johnson, the former First Lady of the United States.
"This endowment will be a permanent fund, separate from the operating budget, that will help the museum preserve the history of the formative years of President Lyndon B. Johnson while he was in college in San Marcos and as a teacher in South Texas," said Dr. Ed Mihalkanin, museum president.
"These early years inspired and guided his many later achievements in civil rights, education and the War on Poverty," added Sherwood Bishop, board vice president.
The Claudia Taylor Johnson Endowment will raise funds from donations and gifts to create new exhibits, update existing exhibits, support museum programs, obtain new artifacts, and to host visiting exhibits from other museums.
"Mrs. Johnson was instrumental in President Johnson's long and successful political career and left her own profound legacy for our nation," Mihalkanin said. "We are proud to dedicate the permanent endowment in her name."
The LBJ Museum will sponsor "Spring Shindig 2016, An LBJ Party at the Texas White House," as its first major fund raiser for the Claudia Taylor Johnson Endowment on April 23, 2016 at the Lyndon B. Johnson National Historic Park in Stonewall, Texas. This inaugural kick-off promises an exciting night of major Texas music, Johnson family favorite 'fixings', local wine and beer tastings and unique auction items. More details on the event will be announced soon.
The LBJ Museum of San Marcos is located at 131 N. Guadalupe Street on the Courthouse Square and is open each week on Thursday-Saturday from 10 a.m.to 5 p.m. Museum admission is free.
Founded in 1997, the museum opened in 2006 in a building owned by Hays County that was a movie theater from the 1920s to the 1970s. Grants from the Hobby Foundation, donations from San Marcos citizens and businesses, and grants from the City of San Marcos and Hays County, led to the initial remodeling of the first floor by 2006 and the renovation of the second story in 2010.
"The Lady Bird Special" is a unique exhibit on the second floor recounting Mrs. Johnson's four-day 1,628-mile campaign trip in October 1964 aboard a train dubbed the Lady Bird Special. The First Lady traveled solo through eight southern states during a period of great racial tension just a few months after President Johnson signed the historic Civil Rights Act on July 2, 1964.
Her whistle-stop tour before sometimes hostile crowds allowed Mrs. Johnson to demonstrate her strong support of civil rights and the President's programs—and her deep love for the South.
The LBJ Museum collection features photographs, paintings, statuary, campaign and presidential mementos, news clippings, a book collection, and memorabilia from President Johnson's college days. The museum has on exhibit the desk where LBJ signed the Higher Education Act in 1965 and pens that he used to sign major legislation.
President Johnson attended Southwest Texas State Teachers College — now Texas State University– from 1927 to 1930, earning a Bachelor of Science degree in education. He worked his way through college, participating in debate and campus politics and editing the college newspaper, the College Star.
In 1928-29, he spent nine months teaching fifth, sixth and seventh graders at the segregated Welhausen School in Cotulla in South Texas, a school for Mexican Americans. The experience had a profound impact on President Johnson's commitment to civil rights, education and the expansion of opportunities for all Americans.
In addition to exhibit areas, the LBJ Museum has a conference room and auditorium available for meetings and special events of civic, educational and cultural organizations, as well as private parties. For more information, contact Rafael Garcia, Museum Manager, at (512) 353-3300 or email director@lbjmuseum.com.