The public is invited to the free reception and lecture this Thursday, March 5th @6:30 pm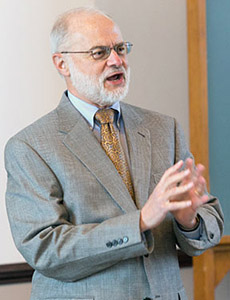 Lyndon Johnson's War on Poverty: 50+ Years Later
Dr. David Zarefsky, a noted scholar in presidential rhetoric, will give the Spring Lecture on "President Johnson's War on Poverty: The View from 50+ Years Later" on Thursday, March 5 at 6:30 p.m. at the Lyndon Baines Johnson Museum of San Marcos, 131 N. Guadalupe Street, San Marcos.The public is invited to attend the free event. A reception will be held at 6:30 p.m., followed by Dr. Zarefsky's talk about the impact and current status of some of President Johnson's signature pieces of legislation. The lecture is sponsored by the LBJ Museum of San Marcos, The Department of Communications Studies, the Political Science Department, and the Public History Program at Texas State University. Additional sponsors include Palmer's Restaurant, HEB and Embassy Suites. Professor Emeritus at Northwestern University in Evanston, Ill., Dr. Zarefsky is the author, co-author, or editor of nine books and the author of over 100 articles in books and professional journals.