Dr. George W.S. Abbey, former Director of the Johnson Space Center and a key figure in the first flight to the Moon, will be the distinguished speaker on "Fifty Year Reflections on Apollo" at the Fall Lecture for the Lyndon Baines Johnson Museum of San Marcos on Sept. 26, 2019.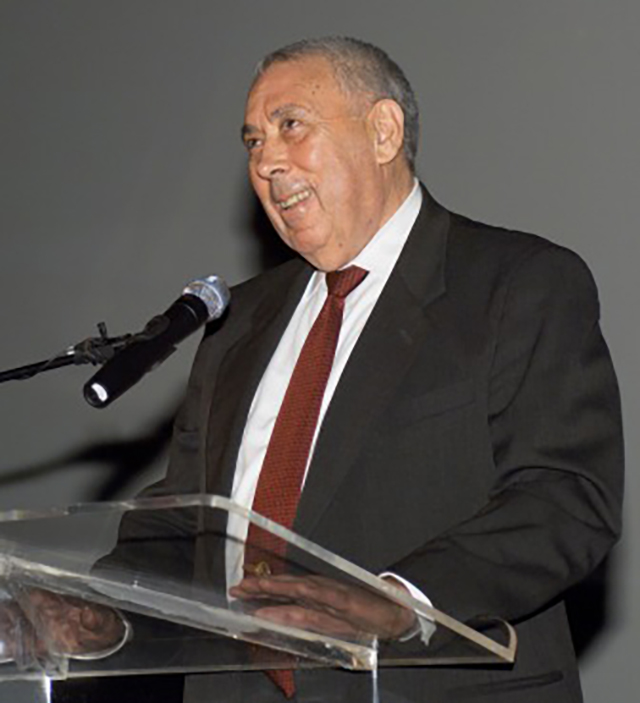 The public is invited to attend the free event on Thursday, September 26 at 6 p.m. at the LBJ Museum, 131 N. Guadalupe Street, San Marcos. Students interested in engineering, history, political science, communications, and computer sciences are especially encouraged to attend. Dr. Abbey's talk will focus on how the United States achieved the first moon landing in history, 50 years ago on
July 16, 1969. During the Apollo 11 mission, astronauts Neil Armstrong and Buzz Aldrin landed their lunar module and walked on the lunar surface, while Michael Collins remained in lunar orbit in the command and service module.
All three landed safely on Earth on July 24, 1969. Five subsequent Apollo missions also landed astronauts on the Moon, the last in December 1972. In these six spaceflights, twelve men walke on the Moon.
George William Samuel Abbey was born in Seattle, Washington on August 21, 1932. He earned his bachelor's degree from the United States Naval Academy in 1954 and his master's degree in electrical engineering from the United States Air Force (USAF) Institute of Technology in 1959. As a pilot in the USAF, Abbey flew more than 4,500 hours in different types of aircraft. He also served in the USAF Research and Development Command where he was an important part of the early air force manned space initiatives, including the Dyna-Soar Program. Abbey joined NASA in 1964 as an Air Force captain and was assigned to the Apollo program. In December 1967, Abbey was named the technical assistant to the Johnson Space Center (JSC) Director and resigned his Air Force commission. Abbey's expertise was crucial to the success of the Apollo program, notably Apollo 8 and Apollo 11. In January 1976, Abbey was named Director of Flight Operations. In this position, Abbey was responsible for the management of flight crews and flight control activities for all human space missions. His work was crucial to the development of the space shuttle program. In 1985, Abbey was appointed Director of the Flight Crew Operations Directorate. In this post,
Abbey was a strong advocate of human space flight and was responsible for all space shuttle flight crews and JSC aircraft operations, including putting Sally Ride, first woman in space, on the crew of 1983's STS-7.

In March 1988, Abbey was appointed Deputy Associate Administrator for Space Flight at NASA Headquarters in Washington, D.C. In July 1990, he was picked as Deputy for Operations and senior NASA representative to the Synthesis Group that was charged with developing strategies for new Moon expeditions and a landing on Mars. In July 1991, he was appointed Senior Director for Civil Space Policy for the National Space Council (lodged in the Executive Office of the President). Abbey was instrumental in U.S. astronauts being able to work in Russia's MIR orbital space station. This enabled U.S. astronauts
to acquire experience in space station operations that they could not have achieved in any other way.
In 1992, Abbey was selected to be Special Assistant to NASA Director Daniel S. Goldin. In 1994, Abbey was named Deputy Director of the JSC and was made Director in 1996, serving until 2001. As Director, Abbey was an integral part of the NSAS-MIR program and provided critical oversight during the first phase of the International Space Station.
Dr. Abbey has achieved numerous awards, including the Distinguished Alumnus of U.S. Air Force Institute of Technology; three NASA awards: Exceptional Service Medal, Outstanding Leadership Medal, and three Distinguished Service Medals; the Rotary National Award for Space Achievement; two Presidential Rank Awards for his contributions as a member of the government's Senior Executive Service; and the Presidential Medal of Freedom in 1970.
The LBJ Museum, located on the square in downtown San Marcos, features exhibits and archives on the formative years of President Lyndon B. Johnson at Texas State University, where he was a student from 1927?1930. The museum is free and open Thursday?Saturday from 11 a.m. to 5 p.m.