The LBJ Museum of San Marcos will celebrate its 10th Anniversary and Fall Lecture Series on Thursday, October 27, featuring Dr. George W.S. Abbey, Director at the NASA Johnson Space Center from 1996 to 2001.   Dr. Abbey is the Senior Fellow in Space Policy at the James A. Baker III Institut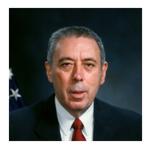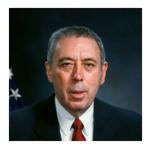 e for Public Policy at Rice University.
Prior to being assigned as an Air Force captain to NASA's Apollo Program at the Manned Spacecraft Center in 1964, Dr. Abbey served in the Air Force Research and Development Command and was involved in early Air Force manned space activities, including the Dyna-Soar Program. In 1976, he was named Director of Flight Operations, responsible for operational planning and management of flight crew and flight control activities for all manned spaceflight missions. In 1983, he became Director of the Flight Crew Operations Directorate.
In 1990, Dr. Abbey was selected as Deputy for Operations and senior NASA representative to the Synthesis Group, charged with defining strategies for returning to the moon and landing on Mars. In 1991, he was appointed Senior Director for Civil Space Policy for the National Space Council in the Executive Office of the President.
Dr. Abbey has received numerous awards, including the NASA Exceptional Service Medal, the NASA Outstanding Leadership Medal and three NASA Distinguished Service Medals. In 1970, he was a member of the operations team presented with the Medal of Freedom, the nation's highest civilian award, by President Richard Nixon for its role in support of the Apollo 13 Mission.
The event will be held at the Museum located at 131 North Guadalupe Street in San Marcos.  A reception commemorating the Museum's 10th anniversary will begin at 6pm followed by Dr. Abbey's remarks at 7pm.  Admission is free.
The LBJ Museum will also recognize President Johnson's contributions and support to NASA and the Mercury, Gemini and Apollo space programs of the 1960's with a NASA–sponsored space suit exhibit beginning November 6.
The Museum opened its doors in 2006, dedicated to President Johnson's formative years at what was then Southwest Texas Teachers College in San Marcos and his years teaching in Cotulla, Texas. He honed his political skills here and developed a strong commitment to civil rights, education and eliminating poverty. The Museum is a tax-exempt, non-profit organization open Wednesday through Saturday from 10am to 5pm. Visit our website at lbjmuseum.com.